TREASURE AT TAMPINES OFFICIAL SITE
Luxurious Mega Condominium at Tampines Street 11 / Tampines Lane
---
Last Updated :
22nd March 2019
Treasure at Tampines Condo Latest Unit Sold :
Preview by Cheque and Expression of Interest: Thursday 14 March 2019
Preview by VVIP Invite : Friday 15 March 2019.
22-03-19: Register for our VVIP Showflat Preview with our Developer Sales Staff.
17-03-19: Our Launch will be held on Saturday 23 March 2019.
12-01-19: Our Treasure at Tampines Price Chart & Treasure at Tampines Floorplan Layout is now updated and available here.
05-01-19: Use our Treasure at Tampines Mortgage Calculator to calculate the Downpayment and Monthly Loan Instalment.
Latest Unit Availability: Last 2,203 Units
1 Bedroom: 231 / 231
2 Bedroom: 265 / 265
2 Bedroom Premium: 160 / 160
2 Bedroom + Study: 313 / 313
3 Bedroom: 417 / 417
3 Bedroom Premium: 344 / 344
4 Bedroom: 176 / 176
4 Bedroom Premium: 187 / 187
5 Bedroom: 110 / 110
---
---
Introduction to Treasure at Tampines
Treasure at Tampines is a new launch private condominium development. Located at Tampines Street 11, Treasure Tampines Condo is sits at the location of the former Tampines Court HUDC.
Purchased by renowned developer Sim Lian for $970 million ($676ppr), Treasure Tampines Singapore will enjoy a fresh 99 year lease, and be fully developed into a luxurious residential development.
New Development at Tampines Town – Treasure Condominium
Comprising of 2,203 units over a sprawling 648,889 sqft of land, Tampines Treasure Condo will house an amazing 128 condominium facilities. Maintenance fee will also be at a minimal, giving value to the residents.
With 29 blocks of 12 storey, Treasure at Tampines Development will boast a variety of unit types and sizes. It ranges from 1 bedroom to 5 bedroom units, with varying floorplan layouts. There are also various facings to choose, from unblocked views and swimming pool views.
Treasure at Tampines Condo Singapore is expected to be the most affordable new launch of 2019. Due to the relatively low land acquisition price and realistic developer pricing, Treasure Condo is the ideal choice for investment-minded home owners, who also wants to give their best to their families.
Treasure at Tampines is extremely well-located. It is near to Simei MRT (East-West Line) and Tampines West MRT(Downtown Line). Residents can also expect island wide accessibility with a new slip road that leads directly into PIE (both towards Changi and towards City).
Contact Us for Treasure Tampines Condo Showflat
Our Treasure at Tampines Showflat is available for viewing by appointment (10am – 7pm) soon. Do contact us to make a showflat appointment.
---
Treasure at Tampines Project Info
| PROJECT NAME: | TREASURE AT TAMPINES |
| --- | --- |
| DEVELOPER: | SIM LIAN (TREASURE) PTE. LTD. |
| ADDRESS: | 1,3,5,7,9,11,13,15,17,19,21,23,25,27,29,31,33,35,37,39,41,43,45,47,49,51,53,55,57 TAMPINES LANE |
| TENURE: | 99 YEARS LEASEHOLD WEF 29 NOVEMEBER 2018 |
| EXPECTED TOP: | December 31, 2023 |
| EXPECTED LEGAL COMPLETION: | December 31, 2026 |
| BUILDING PLAN APPROVAL NO.: | A0831-01743-2017-BP01 DATED 6 DECEMBER 2018 |
| DEVELOPER LICENCE: | C1308 |
| SITE AREA: | APPROX 60,283.84 sqm / 648,889 sqft |
| BUILDING COVERAGE: | APPROX 40% |
| DESCRIPTION: | 29 BLOCKS OF 12-STOREY CONDOMINIUM DEVELOPMENT COMPRISING OF BASEMENT CARPARK, COMMUNAL FACILITIES AND SWIMMING POOL ON LOT 04196A MK28 AT TAMPINES STREET 11 |
| NO. OF UNITS: | 2203 |
| CARPARK FACILITY: | 1,754 BASEMENT CARPARK LOTS |
| ARCHITECT: | DESIGN LINK ARCHITECTS PTE LTD |
| LANDSCAPE ARCHITECT: | DESIGN LINK ARCHITECTS PTE LTD |
| MECHANICAL ENGINEER: | KUNDA CONSULTING ENGINEERS |
| STRUCTURAL ENGINEER: | OCC CONSULTANTS PTE LTD |
| ELECTRICAL ENGINEER: | CDA CONSULTANCY PTE LTD |
| MAIN CONTRACTOR: | S&L CITY BUILDERS PTE LTD |
---
Treasure Tampines Condo Location Map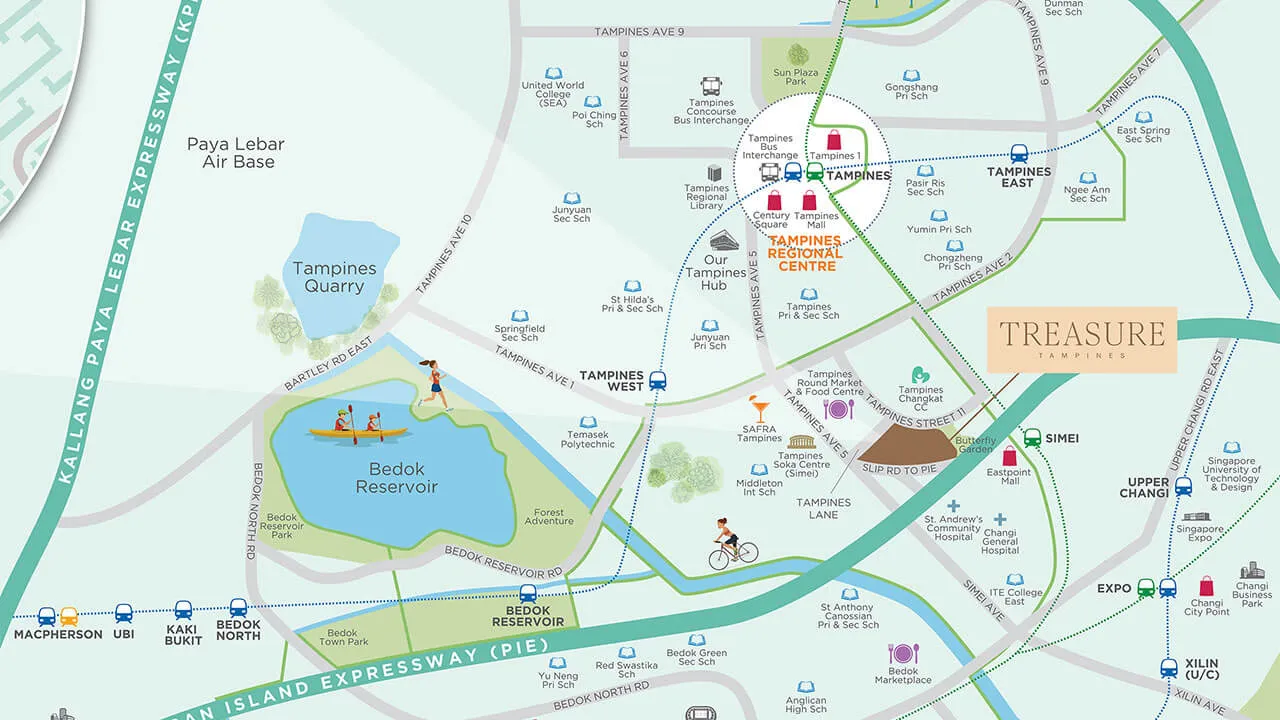 Click Here for Enlarged Location Map
---
Treasure at Tampines
Proudly Developed By
---