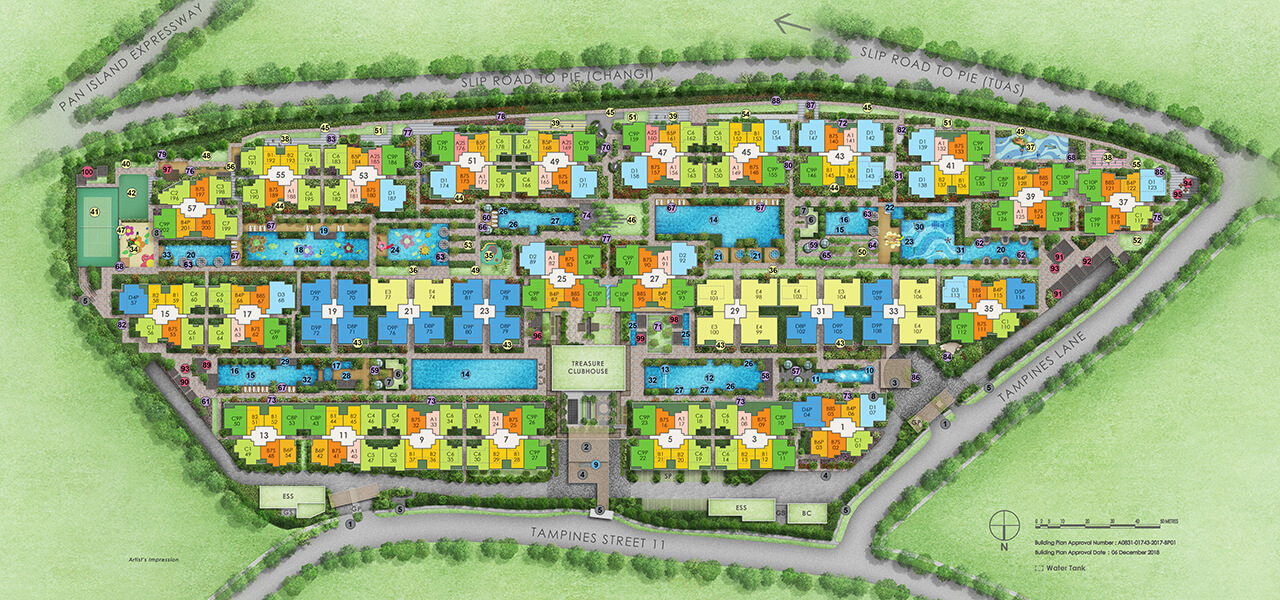 Click Here for Enlarged Siteplan
Treasure at Tampines Project Info
| Project Name: | Treasure at Tampines |
| --- | --- |
| Developer: | SIM LIAN (Treasure) Pte Ltd |
| Address: | Block 1 - 57 Tampines Lane, Singapore 528482 |
| Tenure: | 99 Years Leasehold wef 29 November 2018 |
| Expected TOP: | December 31, 2024 |
| Expected Legal Completion | December 31, 2027 |
| Building Plan Approval: | A0831-01743-2017-BP01 DATED 6 DECEMBER 2018 |
| Developer Licence: | C1308 |
| Site Area: | Approx 60,283.84 sqm / 648,889 sqft |
| Building Coverage: | Approx 40% |
| Description: | 29 Blocks OF 12-Storey Condominium Development Comprising of Basement Carpark, Communal Facilities and Swimming Pool on Lot 04916A MK28 At Tampines Street 11 |
| No. of Units: | 2203 |
| Carpark Facility: | 1,754 Basement Carpark Lots |
| Architect: | Design Link Architects Pte Ltd |
| Landscape Architect: | Design Link Architects Pte Ltd |
| Mechanical Engineer: | KUNDA Consulting Engineers |
| Structural Engineer: | OCC Consultancy Pte Ltd |
| Electrical Engineer: | CDA Consultancy Pte Ltd |
| Main Contractor: | S&L City Builders Pte Ltd |
---
Treasure at Tampines Location Map
---
Rationale of Name

TREASURE signifies the luxuriance of riches and everything you hold dear. It resembles the celebration of moments and joys of living that are most valued.
Live large, explore and grow in the comfort of space. Immerse into the richness of life where seeds of happiness, hope and love blossoms into an abundance of precious memories. Cherish the tranquility of a beautiful home that sparkles amongst the curated suite of facilities and expansive landscaped views.
Design Intent:
Modern and contemporary architecture with extensive use of glass to bring brightness and light into the living spaces.
Provide a great variety of lifestyle options within the development.
128 wholesome facilities that cater to a wide spectrum of home owners.
Spacious and efficient layout to maximize comfort and enjoyment.
Selection of stylish and quality fittings from Electrolux and Hansgrohe.
Smart Community Technology provided for secured access at Basement and 1st storey lift lobbies of residential blocks, designated areas within the Clubhouse and booking of recreational facilities.
---
Treasure at Tampines Unit Mix
| Unit Type | Area (sqm) | Area (sqft) | No of Units |
| --- | --- | --- | --- |
| 1 Bedroom | 43 - 45 | 463 - 484 | 231 |
| 2 Bedroom | 54 - 57 | 581 - 614 | 265 |
| 2 Bedroom Premium | 61 - 63 | 657 - 678 | 160 |
| 2 + Study | 63 | 678 | 313 |
| 3 Bedroom | 76 - 88 | 818 - 947 | 417 |
| 3 Bedroom Premium | 94 - 101 | 1,012 - 1,087 | 344 |
| 4 Bedroom | 115 - 118 | 1,238 - 1,270 | 176 |
| 4 Bedroom Premium | 119 - 127 | 1,281 - 1,367 | 187 |
| 5 Bedroom | 155 -160 | 1,668 - 1,722 | 110 |
---
Treasure at Tampines Smart Home
---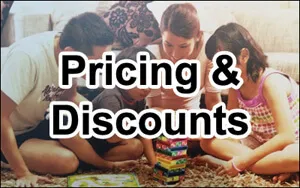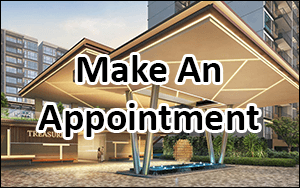 Treasure at Tampines
Proudly Developed By
---